CatTemplateSwitcher this is plugin for adds visitors the opportunity to switch the display mode (templates) category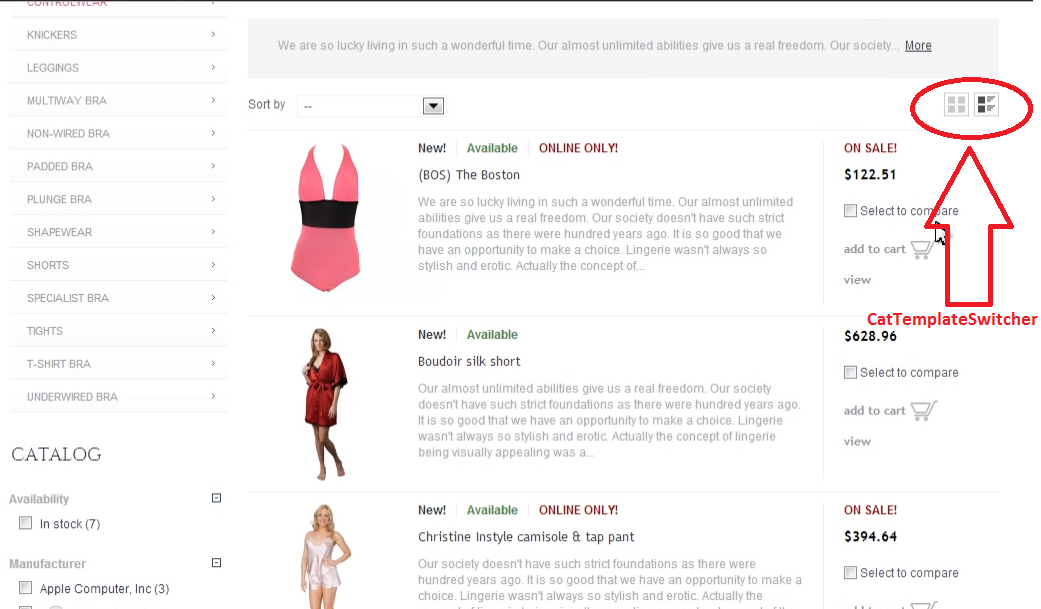 #1. Description
If you have intrnet shop site with Cotonti then using this plugin you can implement all the known function, the switchover of display products, such as "tiles", "line by line", etc.
#2. Installation
For install the plugin download him and in the plugins directory extract cattemplateswitcher folder from the downloaded archive.
Next, go to the admin panel of your site to install the plugin and then go to its configuration page. In the plugin settings to specify a comma-separated list of modes.
Note: Do not delete mode "default" - without it will not be possible to reset the mode of the standard
Next, insert tag {LIST_TPL_SWITCHER} in yours tpl files page.list and other
#3. Usage
#3.1. Examples config mode settings
If inputted mode - default, table, line will mean that, for example, the user will be able to switch between templates
page.list.tpl (default mode), page.list.table.tpl (table mode), page.list.line.tpl (linear mode) 
or
page.list.shop.tpl (default mode), page.list.table.shop.tpl (table mode), page.list.line.shop.tpl (linear mode) where the shop this is category code
#3.2. Tune mode switcher
If you need you can tune mode switcher in /cattemplateswitcher/tpl/cattemplateswitcher.switcher.tpl
#4. Feedback
Report errors or make suggestions to improve this plugin you can in a repo on GitHub